"Building a VPN Between Google Cloud and AWS with Terraform"
Deployment Architecture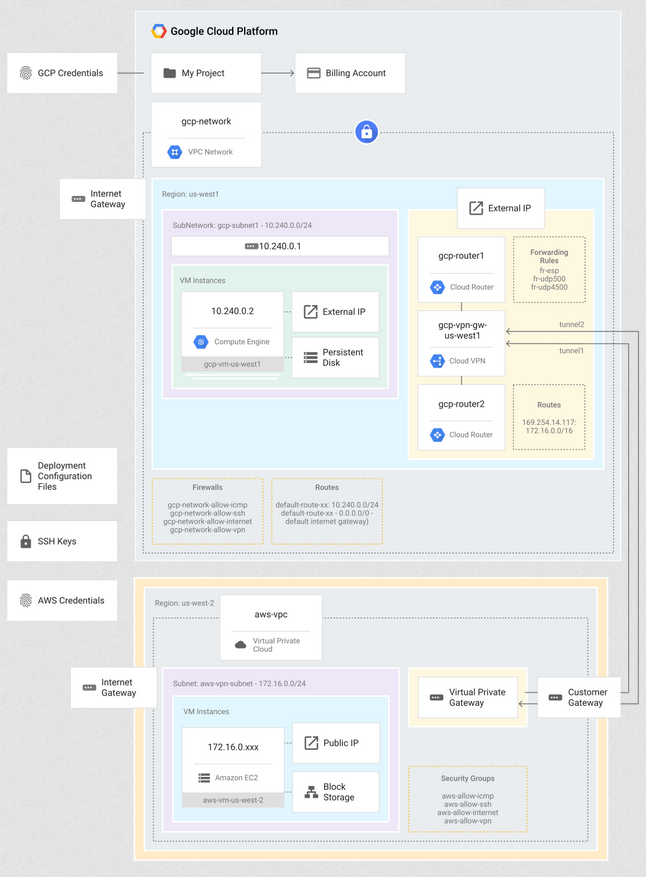 Persiapan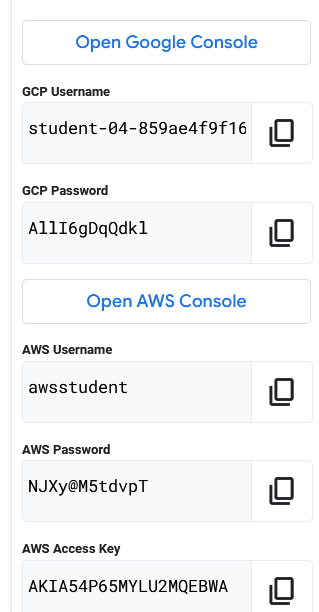 Perisapan Penggunaan GCP
Masuk ke GCP
clone multivpn
git clone https://github.com/GoogleCloudPlatform/autonetdeploy-multicloudvpn.git
cd autonetdeploy-multicloudvpn
Perisapan Penggunaan AWS
login ke dashboard AWS
Pastikan ada di region us-west-1 ( california )
Buat access credentials ( GCP )
Masuk ke menu > click IAM & Admin > Service Accounts.
Klik Compute Engine default service account > klik 3 titik vertikal > di bawah Actions dan select Manage keys, dan click ADD KEY > Create new key
Pilih JSON > klik Create
Lalu file json akan terdownlod
Pastikan di dalam cloud shell masih berada di folder autonetdeploy-multicloudvpn
Klik titik 3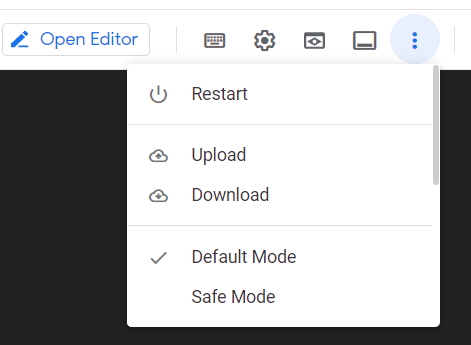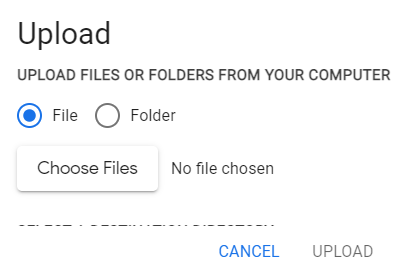 Jalankan perintah berikut
./gcp_set_credentials.sh ~/[PROJECT_ID]-[UNIQUE_ID].json
Buat AWS access credentials
export username=`whoami`
mkdir /home/$username/.aws/
touch /home/$username/.aws/credentials_autonetdeploy
nano /home/$username/.aws/credentials_autonetdeploy
[default]
aws_access_key_id=<Your AWS Access Key>
aws_secret_access_key=<Your AWS Secret Key>
ganti AWS key dan AWS secret yang anda miliki
Misal setelah di masukan seperti berikut
cat /home/$username/.aws/credentials_autonetdeploy

[default]
aws_access_key_id=AKIA3INBXVI72ZO2Z4F4
aws_secret_access_key=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
export TF_VAR_aws_credentials_file_path=/home/$username/.aws/credentials_autonetdeploy
Setting Project
export PROJECT_ID=$(gcloud config get-value project)
gcloud config set project $PROJECT_ID
Gunakan script yang sudah tersedia
./gcp_set_project.sh
Jalankan terraform initial
cd terraform
terraform init
terraform plan
Gunakan SSH keys untuk Koneksi ke VM instances
Masih di GCP cloud shell -> generate new keypair -> Enter
ssh-keygen -t rsa -f ~/.ssh/vm-ssh-key -C $username
chmod 400 ~/.ssh/vm-ssh-key
Import public key ke Google Cloud
Register public key di cloud shell GCP
gcloud compute config-ssh --ssh-key-file=~/.ssh/vm-ssh-key
Klik SSH Key
nanti muncul seperti berikut

Nanti key ini akan di import ke AWS
Import public key dari GCp ke AWS
Login ke AWS Management Console
Buka Services > Compute > EC2
Pastikan ada di Region us-west-1 ( California)
Scrol ke menu Network & Security -> pilih Key Pairs
Klik Actions > Import Key Pair
Tambahkan nama vm-ssh-key
Masukan key yang dari GCP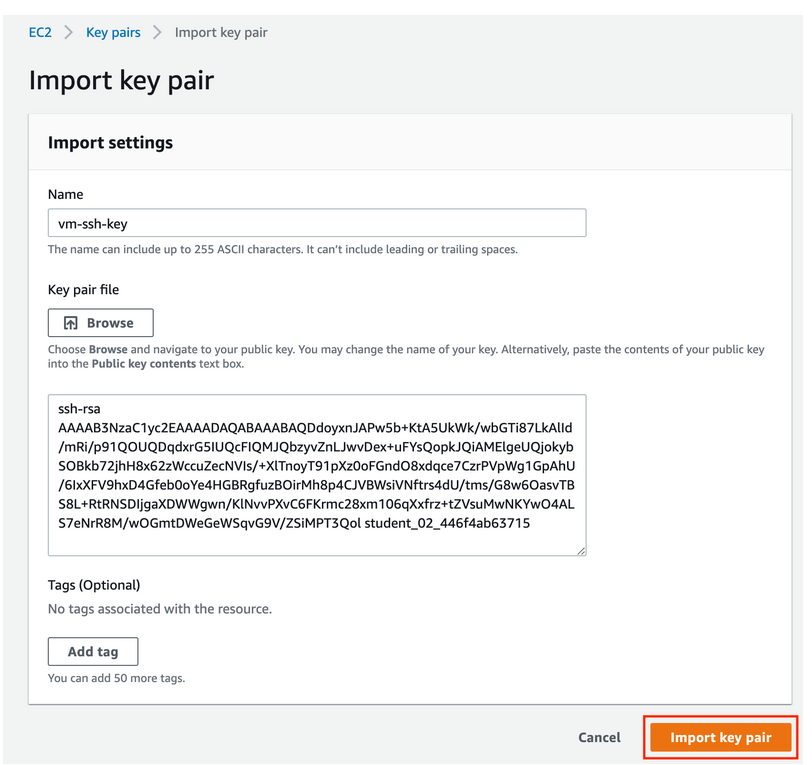 Kemudian klik Import key pair
Deploying VPC networks, VM instances, VPN gateways, dan IPsec tunnels
Dari script yang sudah di clone , berikut yang akan di deploy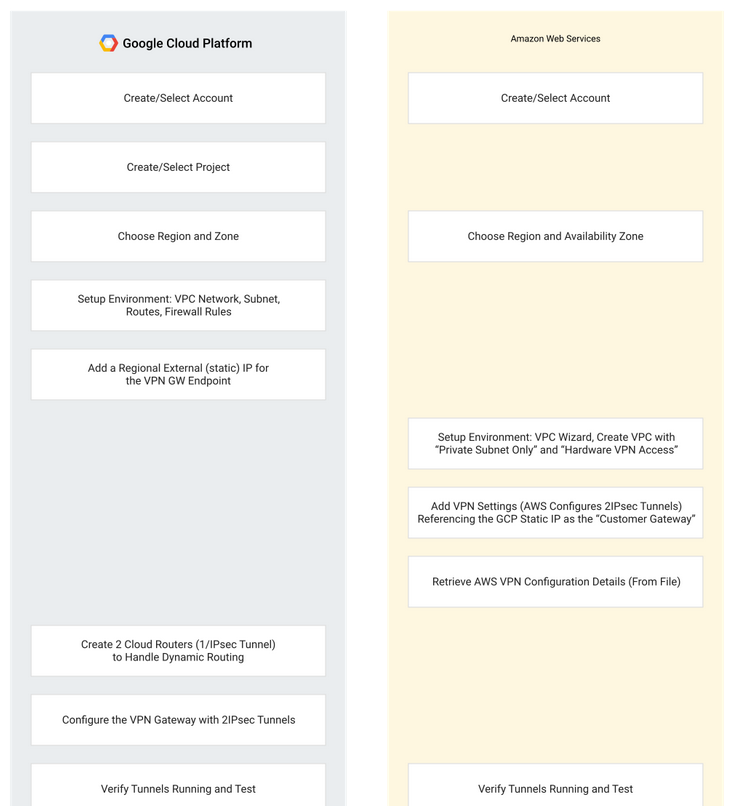 Deploy dengan Terraform
Masuk ke cloud shell GCP
Ubah directory
cd ~/autonetdeploy-multicloudvpn/terraform
terraform validate
terraform plan
terraform apply
Tunggu proses nya karena proses ini akan membuat 30+ resources untuk mu, including GCP danAWS VPC networks, VM instances, VPN gateways, and IPsec tunnels.
Vm di GCP

Vm di AWS

Untuk melihat IP external di GCP dan AWS
terraform output
aws_instance_external_ip = [AWS_EXTERNAL_IP]
aws_instance_internal_ip = 172.16.0.100
gcp_instance_external_ip = [GCP_EXTERNAL_IP]
gcp_instance_internal_ip = 10.240.0.100
Penutup
Sahabat Blog Learning & Doing demikianlah penjelasan mengenai Building a VPN Between Google Cloud and AWS with Terraform . Semoga Bermanfaat . Sampai ketemu lagi di postingan berikut nya.
(Visited 126 times, 1 visits today)