"Wireless Point-to-Point Mikrotik"
Pengantar
Wireless Point-to-Point adalah koneksi komunikasi wireless antara dua titik, dimana satu host terhubung hanya dengan satu client. Wireless Point-to-Point (P2P) Mikrotik menggunakan dua buah Mikrotik + Antena Directional (Grid, Yagi, Sectoral, dsb). Penerapan Wireless Point-to-point pada Mikrotik membutuhkan lisensi RouterOS minimal level 3 dengan mode bridge – station.
Perangkat Mikrotik yang digunakan yaitu Mikrotik Outdoor yang memiliki ketahanan terhadap berbagai macam kondisi cuaca, misalnya menggunakan RB 433. Mikrotik ini nantinya akan dipasang di tower komunikasi bersama antena directional nya. Untuk pemasangan Mikrotik dan antena nya sendiri harus memperhatikan kondisi lingkungan sekitar.
Line of Sight
Line of Sight (LoS) adalah Jalur lurus antara pengirim (transmitter) dan penerima (receiver) yang bebas dari penghalang. Jadi jalur udara antara AP dan client sebisa mungkin tidak ada yang menghalangi, seperti gedung, pepohonan, bukit, dll. Apabila ada penghalang maka konektivitas Wifi tidak akan maksimal, bahkan tidak akan bisa konek.
Fresnel Zone
Fresnel Zone adalah Area di sekitar garis lurus antar antena (LoS) yang digunakan sebagai media rambat frekuensi. Selain LoS yang bebas penghalang, area Fresnel Zone ini juga sebisa mungkin tidak terlalu banyak penghalang nya. Untuk lebih jelasnya silakan lihat gambar berikut ini :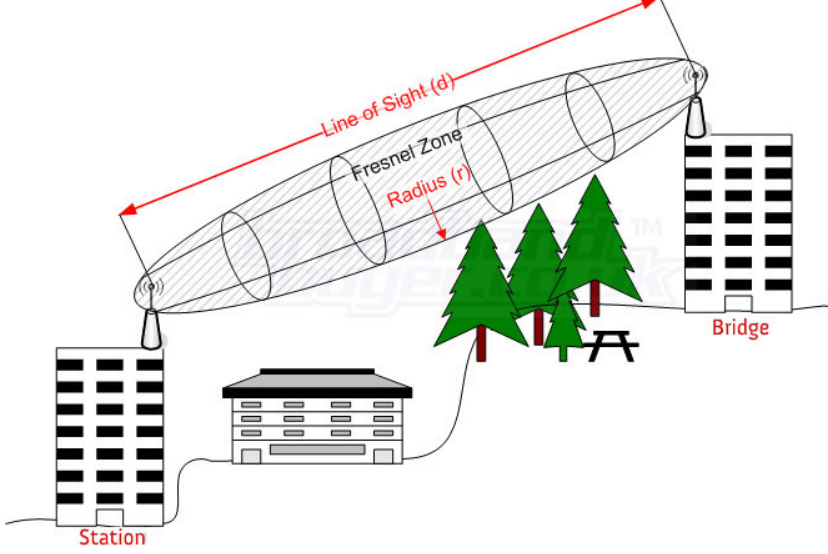 Antenna Alignment
Antenna Alignment yaitu arah dari antenna yang digunakan. Antenna client harus mengarah ke antenna AP, begitu juga sebaliknya. Sudut dan arah antenna juga harus diperhatikan, karena jika tidak mengarah dengan baik maka sinyal tidak akan diterima dengan maksimal.
Mikrotik 1 sebagai Access Point (AP)
Pada Mikrotik 1 ini digunakan sebagai AP dengan mode Bridge. Kenapa Bridge? Karena pada Point-to-Point hanya terjadi komunikasi dua arah saja antara AP dan satu Client. Jika Client nya lebih dari satu berarti itu termasuk Point-to-Multipoint. Nah, mode Bridge sendiri hanya memperbolehkan satu client saja yang bisa konek ke AP.
Mikrotik 2 sebagai Client
Client terhubung dengan AP via Wireless menggunakan mode Station. Pada mode Station biasa tidak mendukung L2 bridging, jadi tidak bisa digunakan untuk membuat jaringan transparent bridge wireless. Jika anda menggunakan mode Station biasa maka harus menggunakan routing, bukan nya bridge.
Sumber : https://mikrotikindo.blogspot.com/2013/06/wireless-point-to-point-mikrotik.html
Penutup
Sahabat Blog Learning & Doing demikianlah penjelasan mengenai Wireless Point-to-Point Mikrotik . Semoga Bermanfaat . Sampai ketemu lagi di postingan berikut nya.
(Visited 41 times, 1 visits today)