"Cara Memperbaiki File Word/ Excel /Outlook Yang Rusak dan Corrupt'
Pengantar
Kadang-kadang file word/excel bisa rusak dan Corrupt yang disebabkan oleh beberapa hal,baik itu faktor hardware maupun software. Yang bisa menyebabkan data anda tidak bisa terbuka atau bahkan hilang(walaupun bisa terbuka akan muncul tampilan seperti gambar dibawah :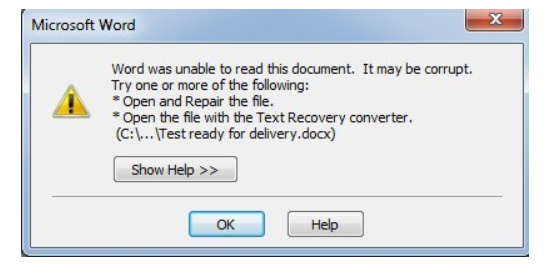 Cara Memperbaiki File Word/ Excel /Outlook Yang Rusak dan Corrupt
Menggunakan Fitur "Open and Repair" Microsoft word/excel
Caranya : Buka Microsoft Word/Excel, buka File> Open, dan kemudian pergi ke lokasi atau folder dimana dokumen tersebut disimpan
Klik dokumen yang akan diperbaiki, dan kemudian klik panah di samping Open, dan klik "Open and Repair".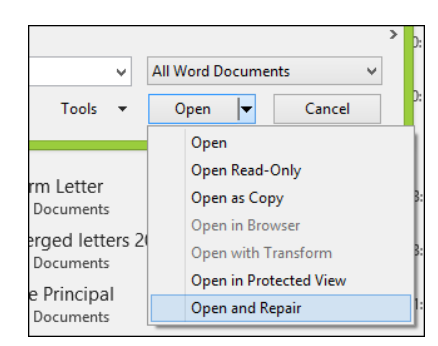 Menggukan Program Repair
Jika cara diatas tidak berhasil, ada sejumlah tools online yang dapat memperbaiki file yang rusak & Corrupt, seperti Aplikasi "DataNumen Word Repair" . yang direferensikan oleh Microsoft Di halaman Support mereka.
Untuk Mencegah file Corrupt/rusak dimasa mendatang.
Masalah dengan file Corrupt biasanya terjadi ketika file tersebut disimpan pada perangkat USB yang terputus saat perangkat terbuka di Windows. Anda dapat mencegah file merusak dengan menggunakan ikon Safely Remove Hardware di taskbar Windows. Ketika anda akan mencabut Harddisk atau Flashdisk dari komputer anda.
Sumber : https://bacolah.com/cara-memperbaiki-file-word-excel-outlook-yang-rusak-dan-corrupt/
Penutup
Sahabat Blog Learning & Doing demikianlah penjelasan mengenai Cara Memperbaiki File Word/ Excel /Outlook Yang Rusak dan Corrupt. Semoga Bermanfaat . Sampai ketemu lagi di postingan berikut nya.
(Visited 228 times, 1 visits today)