"Cloud Operations for GKE"
Pengantar
Kubernetes Engine Monitoring adalah fitur Cloud Monitoring baru yang terintegrasi lebih erat dengan GKE untuk menunjukkan statistik utama tentang kluster Anda serta beban kerja dan layanan yang berjalan di dalamnya dengan lebih baik. Termasuk dalam fitur baru adalah fungsionalitas untuk mengimpor, sebagai metrik Cloud Monitoring asli, metrik dari pod dengan titik akhir Prometheus. Hal ini memungkinkan Anda untuk menggunakan fungsi peringatan asli Cloud Monitoring dengan metrik Prometheus Anda tanpa beban kerja tambahan apa pun.
Architecture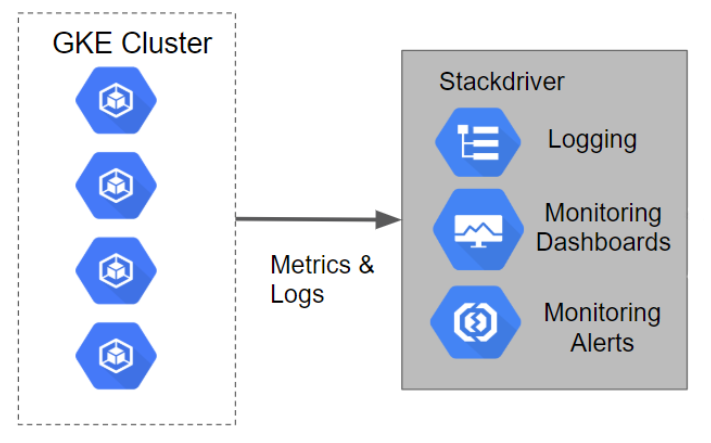 Praktikum
Task 1. Set region/zone
Set your region and zone
gcloud config set compute/region us-central1
gcloud config set compute/zone us-central1-a
Task 2. Clone demo
Copy the resources needed for this lab by running:
gsutil cp gs://spls/gsp497/gke-monitoring-tutorial.zip .
unzip gke-monitoring-tutorial.zip

cd gke-monitoring-tutorial
Create a Monitoring Metrics Scope
In the Cloud Console, click Navigation menu Navigation menu icon > Monitoring.
Deploying the cluster
The infrastructure and Cloud Monitoring alert policy required by this project can be deployed by executing:
make create
Task 3. Validation
You can click on Kubernetes Engine to monitor the progress.
In order to validate that resources are installed and working correctly, run:
make validate
Task 4. Teardown
make teardown
Penutup
Sahabat Blog Learning & Doing demikianlah penjelasan mengenai Cloud Operations for GKE. Semoga Bermanfaat . Sampai ketemu lagi di postingan berikut nya.
(Visited 7 times, 1 visits today)