"Cara Download Video di Twitter, Mudah dan Tanpa Aplikasi 2022"
Pengantar
Para pengguna aplikasi media sosial Twitter tidak perlu bingung jikalau ingin mengunduh video Twitter. Twitter memang tidak menyediakan fitur simpan video, tetapi ada beberapa cara yang dapat digunakan untuk mengunduh video. Cara mengunduh video dari Twitter tidak perlu menggunakan aplikasi, tetapi dapat memakai situs pihak ketiga yang dapat diakses melalui PC, handphone, maupun perangkat lain.
Cara download video dari Twitter
Berikut cara mengunduh video dari Twitter lewat Twittervideodownloader:
1. Buka Twitter, dan pergi ke twit bersematkan video yang hendak didownload.
2. Salin link atau tautan dari twit tersebut.
Caranya:
Buka twit video yang hendak di download.
Klik tombol share di sebelah tombol retweet dan like.
Pilih "Copy link adress". Maka, tautan akan tersalin di clipboard.
3. Sekarang, buka https://twittervideodownloader.com/
4. Klik kanan dan tempel tautan twit di boks url dan klik "Download".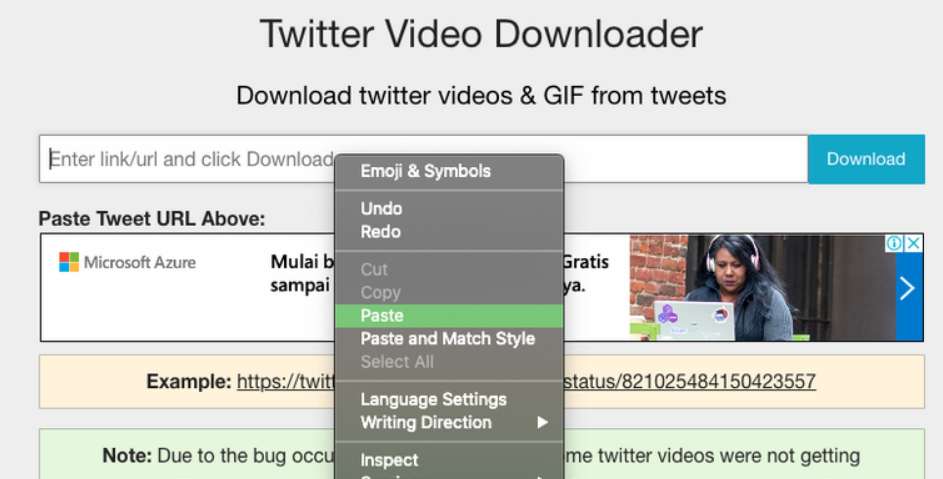 5. Tunggu sejenak, Anda akan diarahkan ke halaman download. Klik download video, maka video akan terunduh secara otomatis.
Cara download video Twitter di Android
Berikut cara mengunduh video dari Twitter di Android:
Unduh aplikasi "Download Twitter Videos" di perangkat seluler Android Anda.
Buka aplikasi Twitter di ponsel Anda
Buka tweet yang fotonya ingin Anda unduh
Pilih opsi 'Bagikan
Ketuk 'Salin tautan ke Tweet' atau 'Copy the link to Tweet
Selanjutnya, buka aplikasi Download Twitter Videos dan lekatkan tautan yang sebelumnya Anda salin dari Twitter di tempat yang disediakan oleh aplikasi
Anda akan melihat opsi Unduh/Download di bagian kanan bawah layar, ketuk di atasnya.
Pilih resolusi yang diinginkan dari opsi yang diberikan dan unduh. Video akan diunduh ke ponsel Anda.
Untuk memeriksa video yang diunduh, Anda dapat membuka aplikasi dan juga menontonnya dari bagian Galeri di ponsel Anda.
Cara download video Twitter di iPhone
Berikut cara mengunduh video dari Twitter di Android:
Buka aplikasi Twitter di iPhone Anda. Temukan tweet yang videonya ingin Anda simpan.
Arahkan kursor ke opsi Bagikan di Tweet dan pilih opsi untuk menyalin tautan ke Tweet.
Buka browser https://www.twittervideodownloader.com di iPhone Anda dan tempel tautannya
Lekatkan URL tweet yang sebelumnya Anda salin dari Twitter di ruang dan klik opsi Unduh/Download
Pilih resolusi di mana Anda ingin mengunduh video
Video akan terbuka di jendela baru, klik tombol bagikan di bagian bawah layar dan pilih 'Simpan ke File' atau 'Save to Files'
Pilih opsi 'Di iPhone saya' atau 'On my iPhone' dan klik Simpan
Anda dapat mengakses video yang diunduh dari aplikasi File di iPhone Anda dan pilih 'Di iPhone saya' di daftar lokasi
Klik pada file video Twitter yang diunduh dan ketuk tombol 'Bagikan' di bagian bawah.
Pilih 'Simpan Video' atau 'Save Video' dan video akan disimpan ke aplikasi Foto iPhone Anda.
Penutup
Sahabat Blog Learning & Doing demikianlah penjelasan mengenai Cara Download Video di Twitter, Mudah dan Tanpa Aplikasi 2022. Semoga Bermanfaat . Sampai ketemu lagi di postingan berikut nya.
(Visited 90 times, 1 visits today)