"Install Gitlab pada Rocky Linux"
Pengantar
GitLab adalah platform pengembangan perangkat lunak yang berbasis web untuk manajemen kode sumber, kolaborasi tim, dan otomatisasi alur kerja (CI/CD). Ini menyediakan alat lengkap untuk mengelola siklus hidup pengembangan perangkat lunak mulai dari manajemen proyek, pengendalian versi kode sumber, pembangunan dan pengujian otomatis, hingga penyebaran aplikasi.
Dibandingkan dengan layanan Git lainnya seperti GitHub, GitLab memiliki perbedaan utama yaitu menyediakan platform dengan sumber terbuka yang dapat di-hosting di lingkungan lokal atau cloud publik, serta menyediakan versi cloud-hosted mereka sendiri yang disebut GitLab.com. Ini berarti Anda dapat menggunakan GitLab di lingkungan Anda sendiri atau memanfaatkan versi yang di-hosting secara online.
GitLab menawarkan fitur-fitur seperti manajemen repositori, pelacakan isu, wiki, forum diskusi, peninjauan kode, alat otomatisasi CI/CD, dan banyak lagi. Dengan menggunakan GitLab, tim pengembang dapat bekerja secara kolaboratif dalam mengelola kode sumber, melacak masalah, mengoordinasikan pekerjaan, dan membangun serta menguji perangkat lunak secara otomatis.
GitLab memiliki model bisnis yang beragam, dengan menyediakan versi komunitas yang gratis dan versi berbayar dengan fitur-fitur tambahan dan dukungan yang lebih kuat. Ini memungkinkan pengguna dari berbagai jenis organisasi, mulai dari individu hingga perusahaan besar, untuk mengelola proyek pengembangan perangkat lunak mereka dengan cara yang sesuai dengan kebutuhan mereka.
Prasyarat
Direkomendasikan menggunakan server dengan minimal :
Install Gitlab pada Ubuntu 20.04 LTS
Update OS
dnf update -y
dnf install postfix
systemctl enable --now postfix
Install Gitlab
cd /tmp

wget https://packages.gitlab.com/install/repositories/gitlab/gitlab-ce/script.rpm.sh

chmod +x script.rpm.sh

os=el dist=8 ./script.rpm.sh

dnf repolist

dnf install gitlab-ce -y
Cek Firewall Rules
systemctl stop firewalld
systemctl disable firewalld
Edit Gitlab Config
sudo nano /etc/gitlab/gitlab.rb

external_url "https://gitlab.linuxbuz.com"

# Enable the Let's encrypt SSL
letsencrypt['enable'] = true

# This is optional to get SSL related alerts
letsencrypt['contact_emails'] = ['hitjethva@gmail.com']

# This example renews every 7th day at 12:30
letsencrypt['auto_renew_hour'] = "12"
letsencrypt['auto_renew_minute'] = "30"
letsencrypt['auto_renew_day_of_month'] = "*/7"
reload config
sudo gitlab-ctl reconfigure
Access GitLab GUI
akses http://yourdomain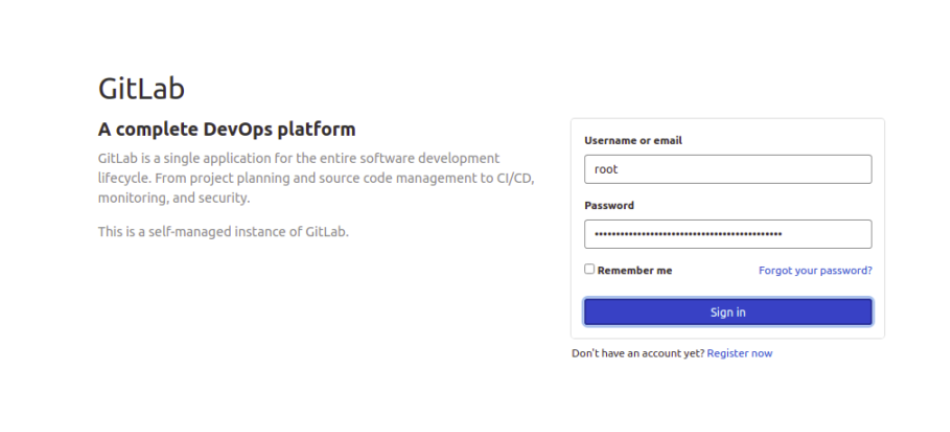 Cek password nya di -> sudo nano /etc/gitlab/initial_root_password
Tampilan Dashboard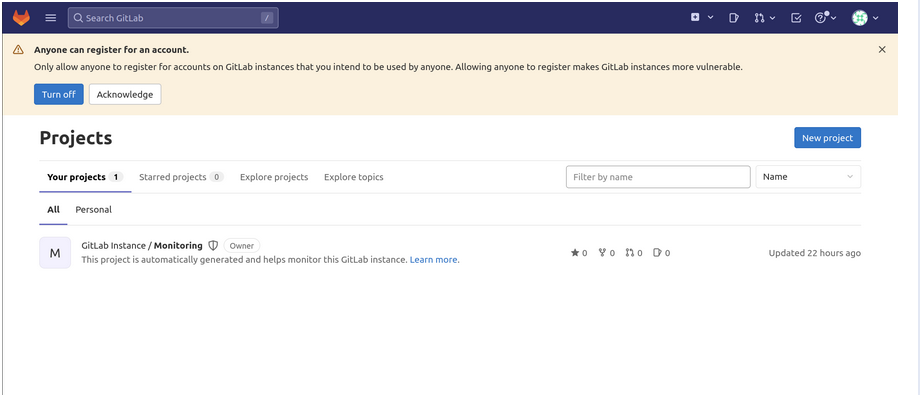 Edit Password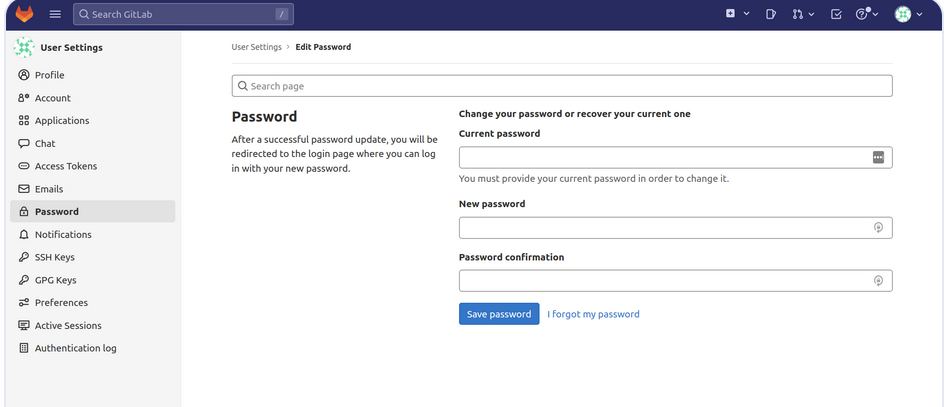 Backup GitLab
gitlab-rake gitlab:backup:create

tambahkan crontab

crontab -e

0   22  *  *  *   gitlab-rake gitlab:backup:create
Penutup
Sahabat Blog Learning & Doing demikianlah penjelasan mengenai Install Gitlab pada Rocky Linux. Semoga Bermanfaat . Sampai ketemu lagi di postingan berikut nya.
(Visited 44 times, 1 visits today)