"Install Bitbucket pada Ubuntu 20.04 LTS"
Pengantar
Bitbucket adalah platform hosting repositori Git yang digunakan untuk mengelola dan berkolaborasi dalam pengembangan perangkat lunak. Ini memungkinkan tim pengembang untuk bekerja bersama dalam proyek-proyek perangkat lunak dengan memungkinkan mereka menyimpan, mengelola, dan melacak kode sumber mereka.
Dengan Bitbucket, tim pengembang dapat membuat repositori Git pribadi atau publik untuk menyimpan kode sumber mereka. Mereka dapat berkolaborasi dalam proyek dengan melakukan commit, push, dan pull kode dari repositori. Bitbucket juga menyediakan alat kolaborasi seperti isu, wiki, dan fitur pembuatan permintaan penarikan (pull request) yang memudahkan tim untuk berdiskusi, mengulas, dan memperbaiki kode.
Salah satu fitur unggulan Bitbucket adalah integrasinya dengan alat pengujian dan penyiapan otomatis (continuous integration/CI) seperti Jenkins atau Bamboo. Dengan menggunakan integrasi ini, tim pengembang dapat mengotomatiskan proses pengujian dan penyiapan perangkat lunak mereka secara otomatis setiap kali ada perubahan dalam repositori.
Bitbucket dikembangkan oleh Atlassian, perusahaan perangkat lunak yang juga mengembangkan alat kolaborasi populer seperti Jira dan Confluence. Meskipun awalnya dikenal sebagai platform untuk repositori Git, Bitbucket juga mendukung repositori Mercurial.
Dalam rangka untuk menggunakan Bitbucket, pengguna dapat mendaftar untuk akun gratis dengan batasan pada jumlah pengguna dan repositori pribadi. Atlassian juga menyediakan pilihan berbayar yang menawarkan fitur tambahan dan skala yang lebih besar untuk tim pengembang yang lebih besar atau perusahaan.
Install Bitbucket pada Ubuntu 20.04 LTS
Download Bitbucket
Anda harus pergi ke halaman unduhan resmi Bitbucket dan memilih Sistem Operasi Linux 64 bit seperti yang ditunjukkan di bawah ini. Kemudian Klik kotak centang Saya setuju dan kirim. Ini akan mulai mengunduh Server Bitbucket di folder unduhan sistem lokal Anda.
https://www.atlassian.com/software/bitbucket/download-archives
Update OS
apt update -y
Install Git
sudo apt-get install git -y
git --version
Run Bitbucket Installer
chmod +x atlassian-bitbucket-8.2.0-x64.bin
./atlassian-bitbucket-8.2.0-x64.bin
Unpacking JRE ...
Starting Installer ...
You do not have administrator rights to this machine.
You will not be allowed to install Bitbucket as a service or listen on any port that's not permitted by your firewall or security policy.

Are you sure you want to continue?
Yes [y, Enter], No [n]
y

Bitbucket 8.2.0 installation wizard
Would you like to install or upgrade an instance?
Install a new instance [1, Enter], Upgrade an existing instance [2]
1

Install Bitbucket 8.2.0
What type of instance are you looking to install?
Install a Server instance [1, Enter], Install a Data Center instance [2], Install a Smart Mirroring instance [3]
1
Where should Bitbucket be installed?

Select the folder where you would like Bitbucket 8.2.0 to be installed, then
click Next.
[/home/cyberithub/atlassian/bitbucket/8.2.0]

Default location for Bitbucket home directory

The location for Bitbucket data.
This will be the default location for repositories, plugins, and other data.

Ensure that this location is not used by another Bitbucket installation.
[/home/cyberithub/atlassian/application-data/bitbucket]

Configure which ports Bitbucket will use.


Configure TCP Ports
Bitbucket requires a TCP port that isn't being used by other applications.

The HTTP port is where users access Bitbucket through their browsers.

Bitbucket also requires ports 7992 and 7993 are available to run the bundled
search server that provides search functionality to Bitbucket.
HTTP Port Number
[7990]

Please review your Bitbucket installation settings


Installation Summary
Installation Directory: /home/cyberithub/atlassian/bitbucket/8.2.0
Home Directory: /home/cyberithub/atlassian/application-data/bitbucket
HTTP Port: 7990
Install as a service: No

Install [i, Enter], Exit [e]
i

Extracting files ...


Installation of Bitbucket is complete
Would you like to launch Bitbucket?
Yes [y, Enter], No [n]
y

Please wait a few moments while Bitbucket starts up.
Launching Bitbucket ...

Installation of Bitbucket 8.2.0 is complete
Your installation of Bitbucket 8.2.0 is now ready and can be accessed via
your browser.
Bitbucket 8.2.0 can be accessed at http://localhost:7990
Launch Bitbucket 8.2.0 in browser?
Yes [y, Enter], No [n]
y
Finishing installation ...
Setup Bitbucket
akses http://localhost:7990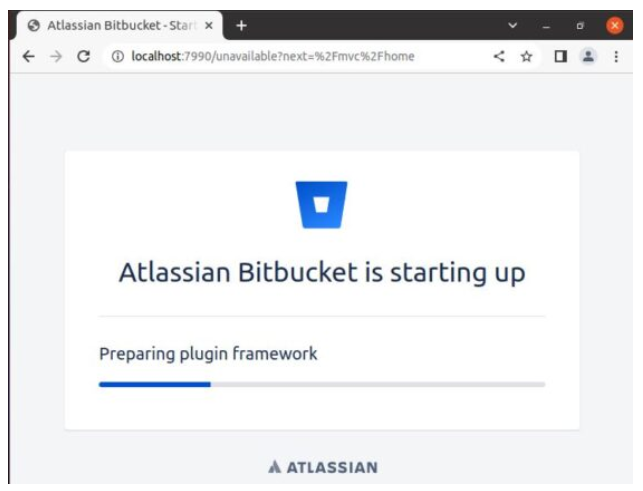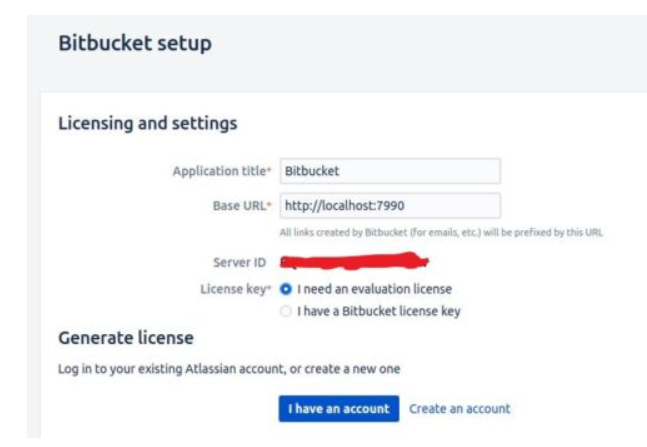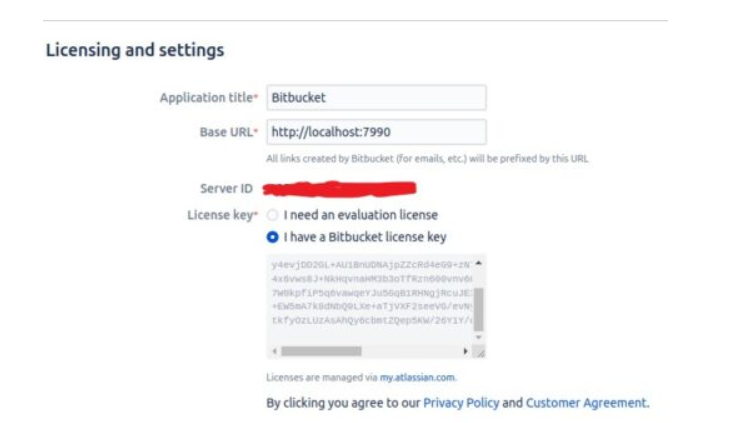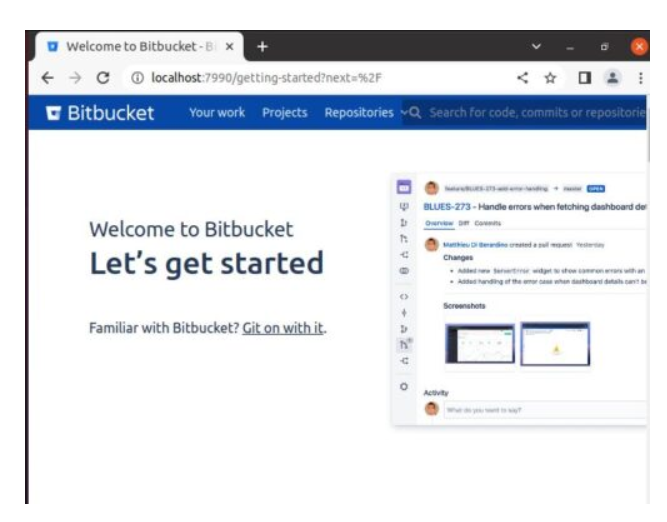 Stop/Start Bitbucket
cd atlassian/bitbucket/8.2.0/bin
./stop-bitbucket.sh
./start-bitbucket.sh
Penutup
Sahabat Blog Learning & Doing demikianlah penjelasan mengenai Install Bitbucket pada Ubuntu 20.04 LTS. Semoga Bermanfaat . Sampai ketemu lagi di postingan berikut nya.
(Visited 52 times, 1 visits today)