"Cara Install Mattermost Server pada Amazon Linux"
Pengantar
Mattermost adalah alat obrolan dan kolaborasi sumber terbuka dan gratis. Mattermost memiliki banyak keunggulan sebagai alat obrolan dan kolaborasi online seperti integrasi dengan alat online lainnya, bot yang dapat dikonfigurasi untuk alur kerja khusus dan banyak lagi. Alat ini populer dengan alat DevOps seperti Git.
Arsitektur Mattermost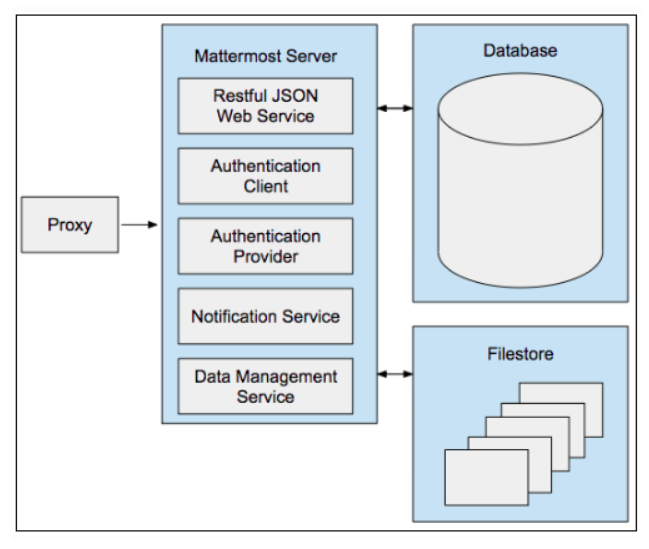 Persyaratan
1 – 1,000 users – 1 vCPU/cores, 2 GB RAM
1,000 – 2,000 users – 2 vCPUs/cores, 4 GB RAM
Install Mattermost Server pada Amazon Linux
sudo yum -y update
sudo reboot
sudo yum -y install @mariadb
sudo systemctl enable --now mariadb
Konfigurasi Mariadb
sudo mysql_secure_installation
Buat DB baru
mysql -u root -p
CREATE DATABASE mattermost;
GRANT ALL PRIVILEGES ON mattermost.* TO mattermost@localhost IDENTIFIED BY 'Str0ngPassw0rd';
FLUSH PRIVILEGES;
QUIT;
sudo useradd -d /opt/mattermost -U -M mattermost
wget https://releases.mattermost.com/6.0.1/mattermost-6.0.1-linux-amd64.tar.gz
tar xvf mattermost-6.0.1-linux-amd64.tar.gz
sudo mv mattermost /opt
sudo mkdir /opt/mattermost/data
sudo chown -R mattermost:mattermost /opt/mattermost
sudo chmod -R g+w /opt/mattermost
sudo vim /opt/mattermost/config/config.json
    Set the "DriverName" to mysql

    Configure the "DataSource" in the format "mmuser:<mmuser-password>@tcp(:3306)/mattermost?charset=utf8mb4,utf8&readTimeout=30s&writeTimeout=30s"
"SqlSettings": {
        "DriverName": "mysql",
        "DataSource": "mattermost:Str0ngPassw0rd@tcp(localhost:3306)/mattermost?charset=utf8mb4,utf8\u0026readTimeout=30s\u0026writeTimeout=30s",
        "DataSourceReplicas": [],
        "DataSourceSearchReplicas": [],
        "MaxIdleConns": 20,
        "ConnMaxLifetimeMilliseconds": 3600000,
        "MaxOpenConns": 300,
        "Trace": false,
        "AtRestEncryptKey": "",
        "QueryTimeout": 30
    },
Jalankan Mattermost server
cd /opt/mattermost
$ sudo -u mattermost ./bin/mattermost
{"level":"info","ts":1629019440.0392742,"caller":"app/server.go:269","msg":"Server is initializing...","go_version":"go1.15.5"}
{"level":"info","ts":1629019440.0393405,"caller":"app/web_hub.go:93","msg":"Starting websocket hubs","number_of_hubs":2}
{"level":"info","ts":1629019440.0397189,"caller":"i18n/i18n.go:93","msg":"Loaded system translations","for locale":"en","from locale":"/opt/mattermost/i18n/en.json"}
{"level":"info","ts":1629019440.0487335,"caller":"sqlstore/store.go:306","msg":"Pinging SQL","database":"master"}
{"level":"info","ts":1629019440.056872,"caller":"sqlstore/store.go:306","msg":"Pinging SQL","database":"migrations"}
{"level":"info","ts":1629019440.1456177,"caller":"app/server.go:579","msg":"Enterprise Build","enterprise_build":true}
{"level":"info","ts":1629019440.145637,"caller":"app/server.go:585","msg":"Printing current working","directory":"/opt/mattermost"}
{"level":"info","ts":1629019440.1456475,"caller":"app/server.go:586","msg":"Loaded config","source":"file:///opt/mattermost/config/config.json"}
{"level":"info","ts":1629019440.152936,"caller":"jobs/workers.go:135","msg":"Starting workers"}
{"level":"info","ts":1629019440.1530619,"caller":"jobs/schedulers.go:116","msg":"Starting schedulers."}
{"level":"info","ts":1629019440.161364,"caller":"mlog/log.go:237","msg":"Starting up plugins"}
{"level":"info","ts":1629019440.1614122,"caller":"app/plugin.go:258","msg":"Syncing plugins from the file store"}
{"level":"info","ts":1629019442.7709634,"caller":"app/license.go:88","msg":"License key from https://mattermost.com required to unlock enterprise features."}
{"level":"info","ts":1629019443.1491122,"caller":"mlog/sugar.go:21","msg":"Ensuring Surveybot exists","plugin_id":"com.mattermost.nps"}
{"level":"info","ts":1629019443.3604462,"caller":"app/server.go:1179","msg":"Starting Server..."}
{"level":"info","ts":1629019443.3606062,"caller":"app/server.go:1255","msg":"Server is listening on [::]:8065","address":"[::]:8065"}
Cek port
(Visited 143 times, 1 visits today)