"Cara Install Proxmox Untuk Pemula"
Proxmox merupakan salah satu alternatif selain VMware, sangat cocok untuk development ataupun production. Bagi para Sysadmin yang ingin melakukan development atau membangun lab sendiri namun terkendala dalam hal lisensi, proxmox merupakan salah satu alternatif. Selain free, fitur yang ditawarkan juga tidak kalah dari VMware vSphere.
KELEBIHAN Proxmox
G E R A T I S, inilah yang paling anda suka bukan.
Mudah untuk diinstal dan dikonfigurasi.
Mendukung sampai 32 host.
Host-host dalam cluster Proxmox pun tidak harus memiliki resource dan prosesor yang sama.
Mendukung berbagai format hardisk virtual.
Minimalis dan power full dalam pemakaian memory karena hanya butuh sedikit memory untuk menjalankan virtual server.
Mendukung banyak model storage : LVM group, iSCSI, Local Directory, NFS Share, GlusterFS, NFS, Ceph RBD, ZFS.
Mendukung auto backup sesuai schedule yang ditentukan baik ke internal storage maupun external storage.
Sudah mendukung Live Migration.
Kekurangan Proxmox
Belum mendukung Distributed Resource Scheduler, dimana DRS Artinya distribusi workload antar host ke host yang berada dalam satu cluster harus dilakukan secara manual.
Menurut sebagian orang, performance Proxmox belum maksimal bila di bandingkan dengan VMware ESX, Microsoft Hyper-V maupun Oracle VM, disini menurut saya masihlahwajar,mengingat proxmox inikan gratis
Shot node virtual machine, kadang tidak berjalan semestinya
Spesifikasi Hardware Yang dibutuhkan Untuk Menjalankan Proxmox
CPU: 64bit (Intel EMT64 or AMD64)
Intel VT/AMD-V capable CPU/Mainboard (for KVM Full Virtualization support)
Minimal RAM 8 GB
Hardware RAID with batteries protected write cache (BBU) or flash protection Fast hard drives, best results with 15k rpm SAS, Raid10
Minimal 2 Gbit NIC (for bonding)
Cara Install Proxmox
1. Siapkan 1 buah server yang hdd nya masih kosong dengan spec di atas
2. Download dahulu proxmoxnya di link berikut : https://www.proxmox.com/en/downloads
3. Setelah di download silahkan burning ke CD atau di Booting ke Flash disk
4. Masukkan CD ke CD Drive lalu mulai start server nya.
5. Jangan lupa setting BIOS supaya first boot nya DVD Drive
6. Setelah Booting muncul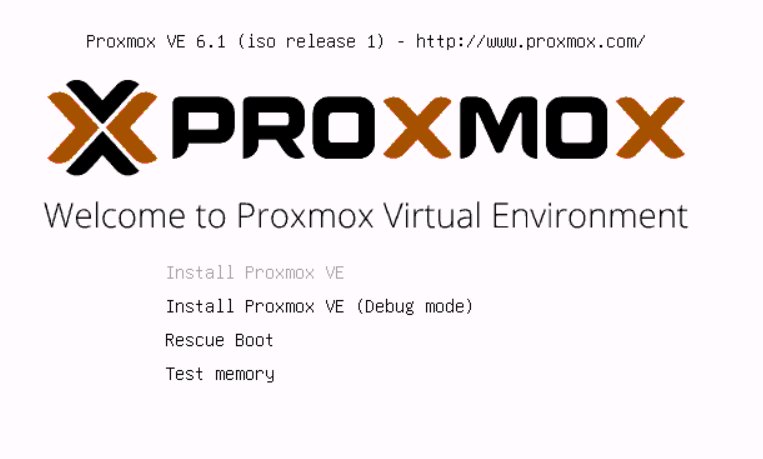 7. Klik install Proxmox VE
8. Pada Lisensi Agreement klik I agree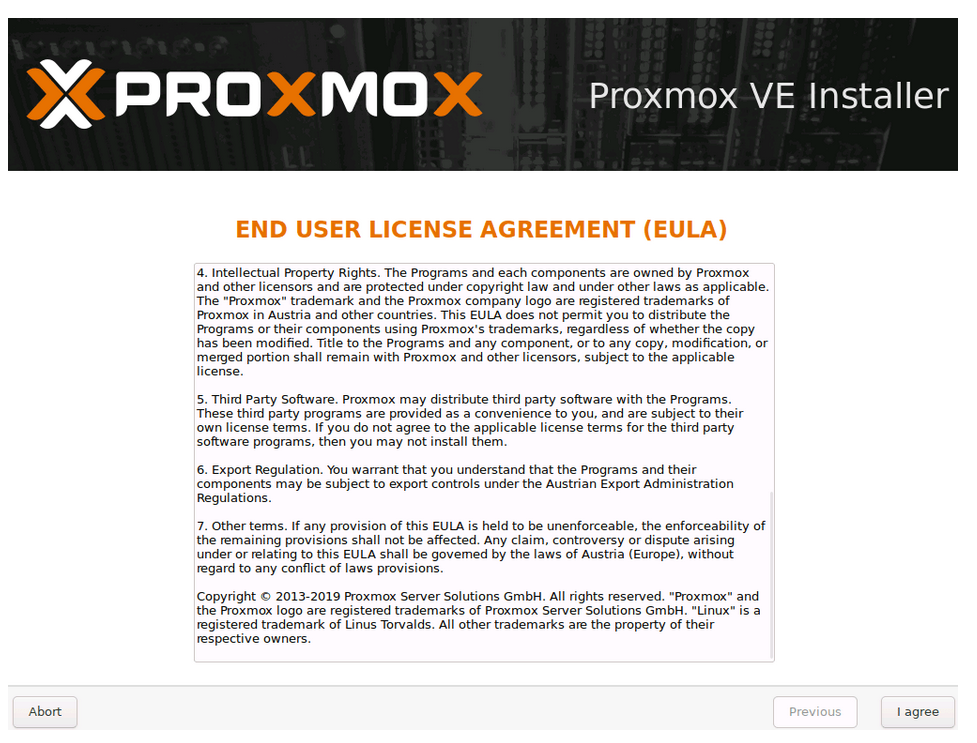 9. Pilih hard disk yang akan di gunakan lalu klik next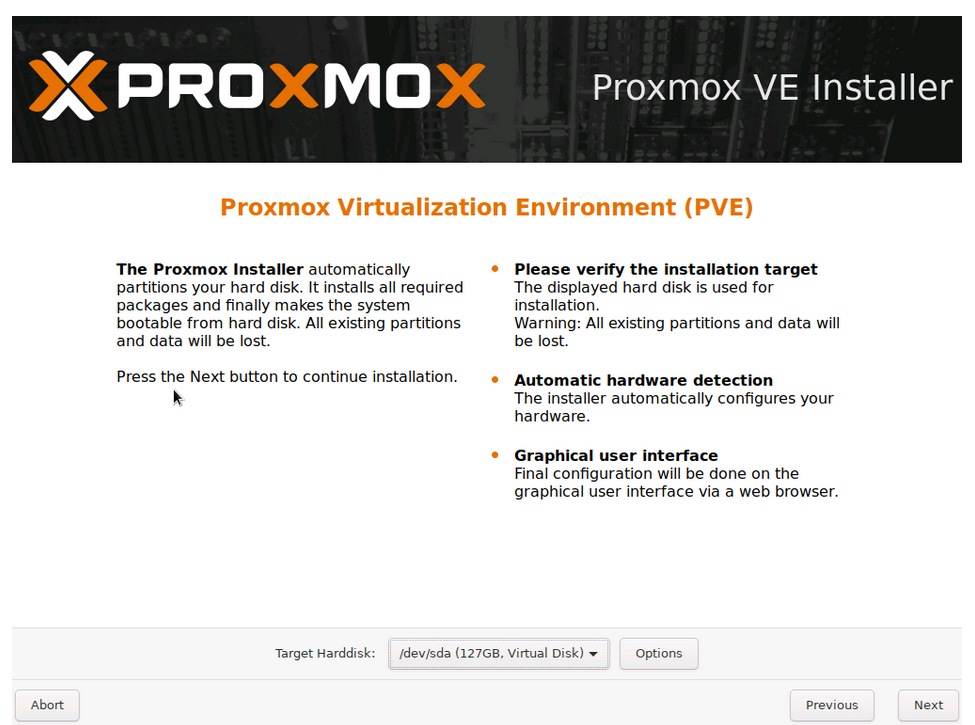 10. Selanjutnya memilih Country , TimeZone dan Keyboard Layout , lalu Next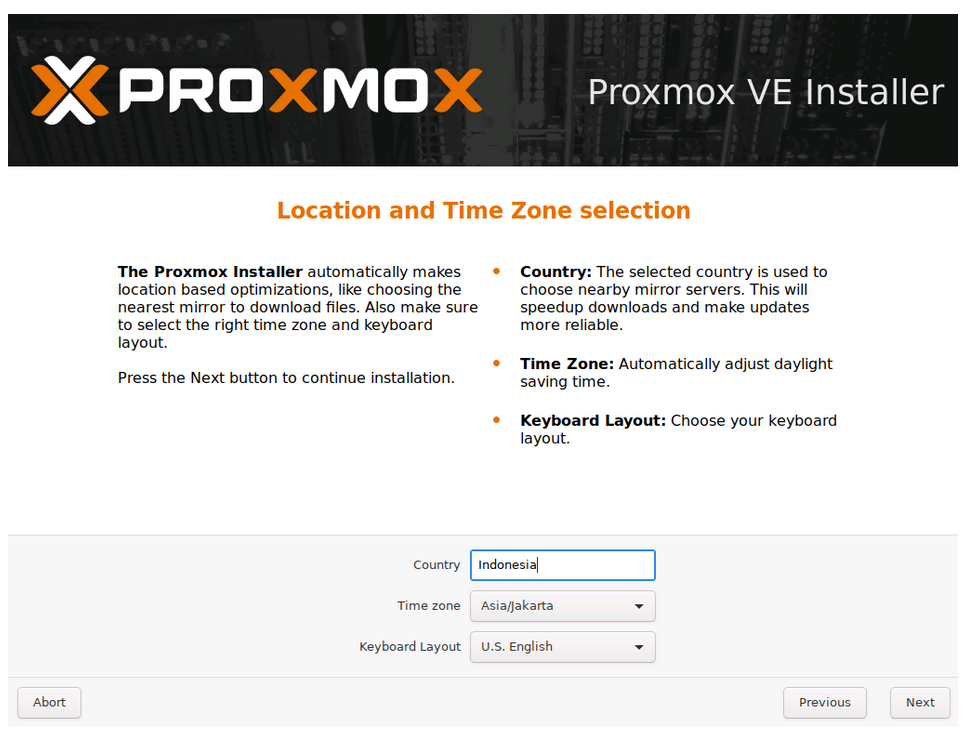 11. Masukan password dan email , lalu Next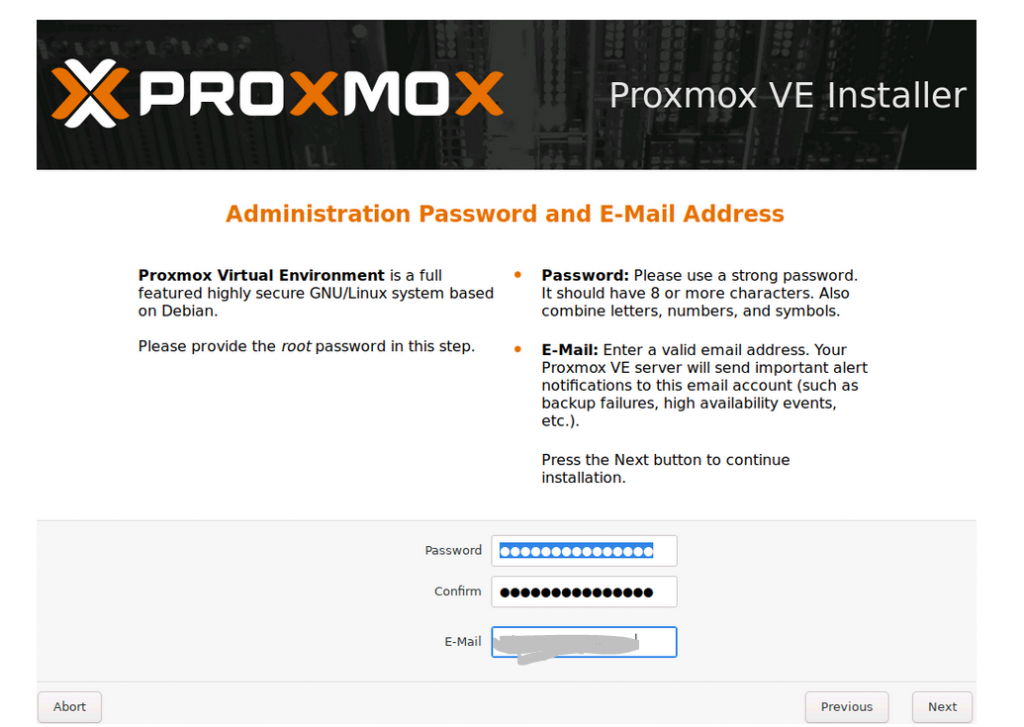 12. Setting IP addr , Netmask , Gateway dan DNS yang anda gunakan.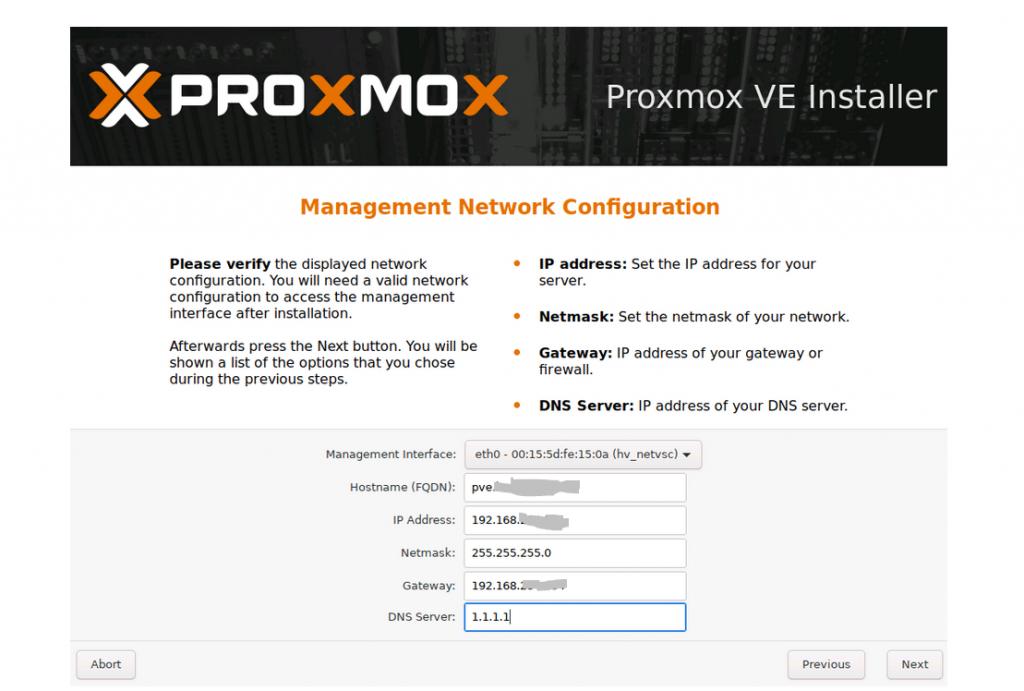 13. Nanti muncul summary , kalo dirasa sudah OK semua settingannya . Klik install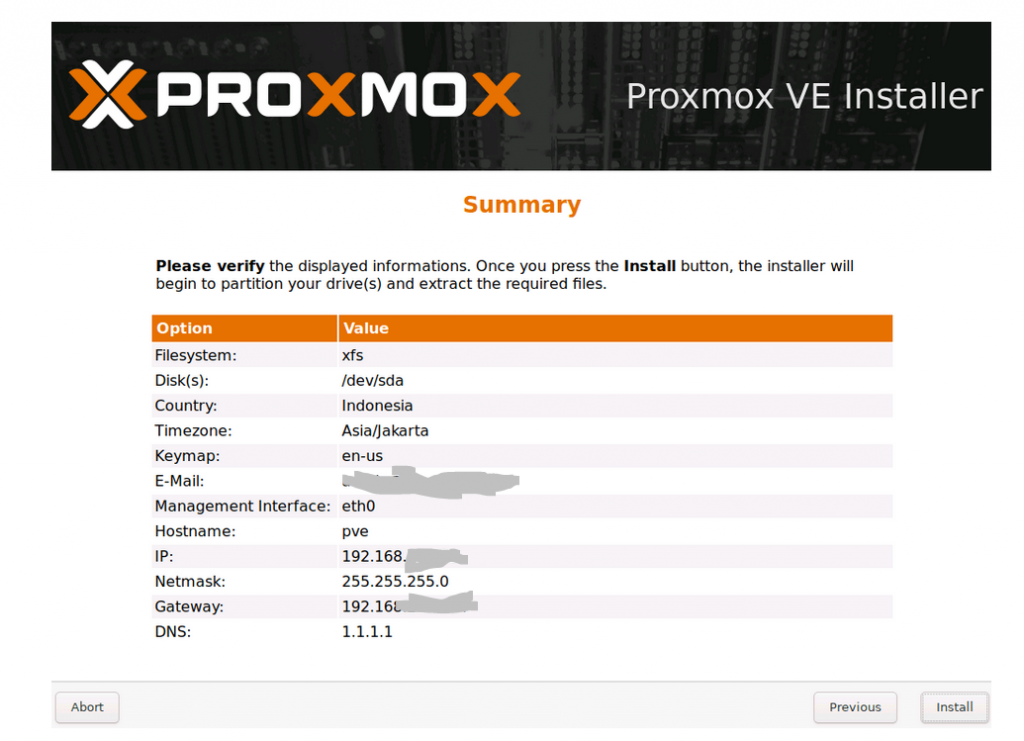 14 Tunggu proses installasi memakan 30 – 60 menit , tergantung Spesifikasi hardware nya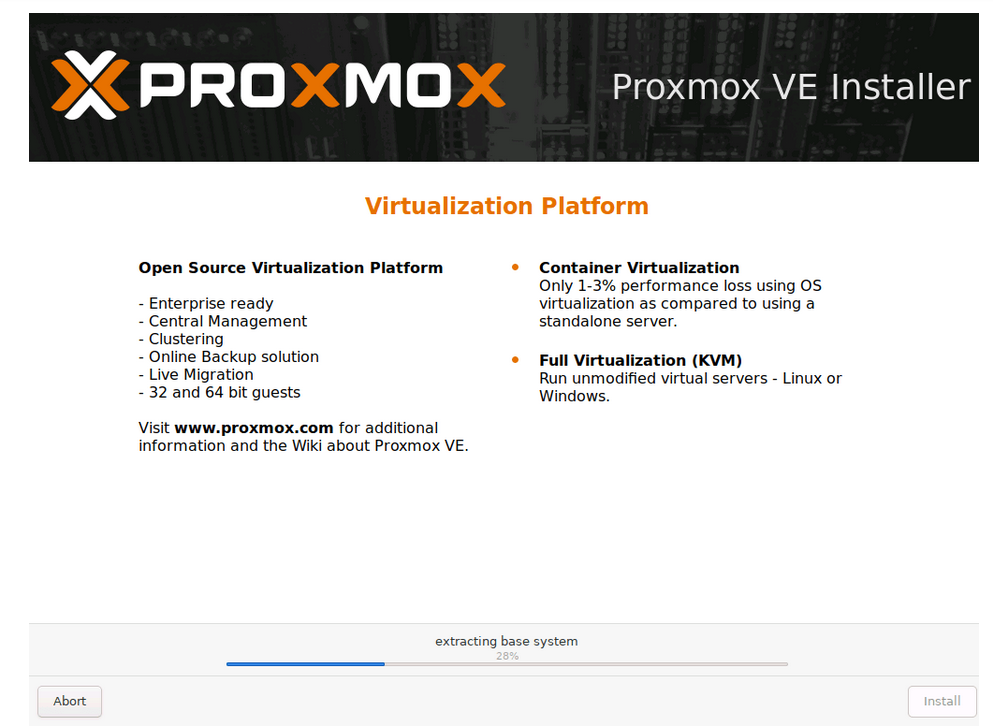 15. Setelah selesai proses installasi, jangan lupa di cabut CD installer nya . kemudian reboot server nya.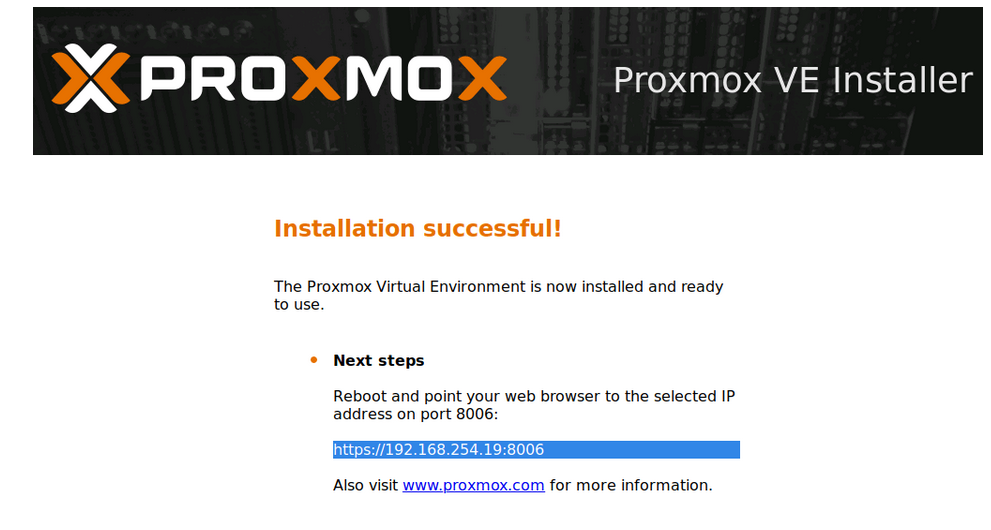 16. Setelah di reboot , akan muncul seperti berikut di monitor console, ini menandakan tahap installasi sudah berhasil
17. Silahkan akses Via browser ke alamat tersebut.
https://192.168.254.19:8006/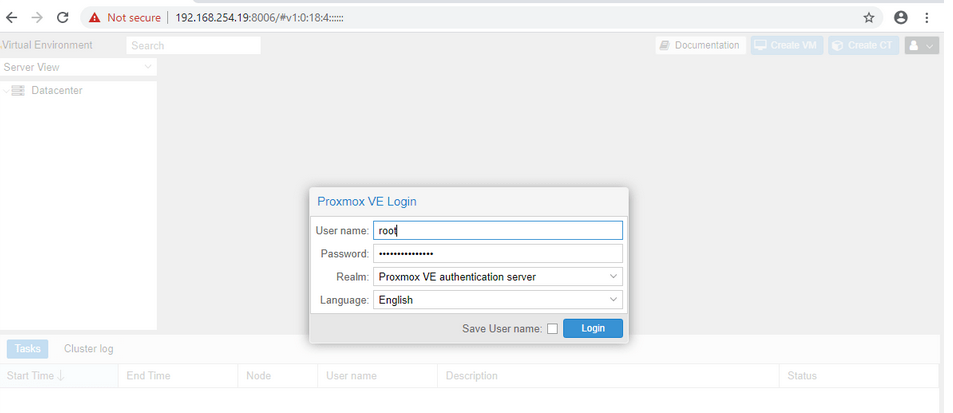 18 . Halaman dashboard proxmox , tinggal anda manage proxmox nya

(Visited 4,480 times, 1 visits today)