"Cara Menghilangkan Notifikasi Iklan Popup pada Windows"
Pengantar
Notifikasi popup yang muncul di bagian pojok kanan bawah Windows, seringkali berupa iklan, disebut juga dengan push notification. Iklan ini bisa berasal dari aplikasi desktop atau dari situs-situs yang pernah kita kunjungi.
Untuk bisa muncul di sana, iklan tersebut sebenarnya harus mendapatkan persetujuan dari kita terlebih dahulu sebagai user. Tapi terkadang kita tidak sadar entah kapan telah menekan tombol "setuju" untuk membolehkan situs atau aplikasi yang dimaksud untuk memunculkan iklan mereka di Windows kita.
Saya sering sekali ketika meminjam laptop milik teman, semua terlihat normal saat belum terhubung ke internet, tapi saat sudah dihubungkan ke internet iklan popup langsung bermunculan tanpa henti. Bagi saya ini sangat mengganggu sekali, apalagi terkadang iklan yang muncul itu berisi konten-konten dewasa dan click bait.
Selama tidak dimatikan maka iklan-iklan popup tersebut akan terus muncul di notifikasi Windows selama laptop terhubung ke internet. Untuk menghilangkannya kita harus matikan push notification dari aplikasi atau situs pemilik iklan tersebut.
Saya akan tunjukkan bagaimana cara mengatasinya, baik pada Windows 10, 8, dan 7.
Cara Menghilangkan Notifikasi Iklan Popup pada Windows
1. Buka browser
Langkah pertama buka browser yang kalian gunakan di laptop atau PC. Baik itu Mozilla Firefox, Google Chrome, atau Opera.
2. Masuk ke Settings
Selanjutnya masuk ke settingan browser.
Mozilla Firefox caranya klik icon garis tiga di pojok kanan atas > pilih Options.
Google Chrome caranya klik citon titik tiga di pojok kanan atas > pilih Settings.
Opera caranya klik Menu > pilih Settings.
3. Cek apakah ada situs yang diizinkan untuk menampilkan iklan pop up
Selanjutnya cek apakah ada situs tertentu yang diizinkan untuk menampilkan iklan di notifikasi Windows.
Google Chrome: Settings > Advanced > Privacy and security > Site settings > Notifications
Mozilla Firefox: Options > Privacy and Security > Permissions > Notifications > Settings
Opera: Menu > Settings > Advanced > Privacy and security > Site settings > Notifications
Di sana akan terlihat daftar situs-situs yang memiliki izin untuk memunculkan iklan pop up di Windows lewat fitur push notifications.
Contoh daftar situs yang memiliki izin untuk menampilkan iklan di Windows pada browser Google Chrome: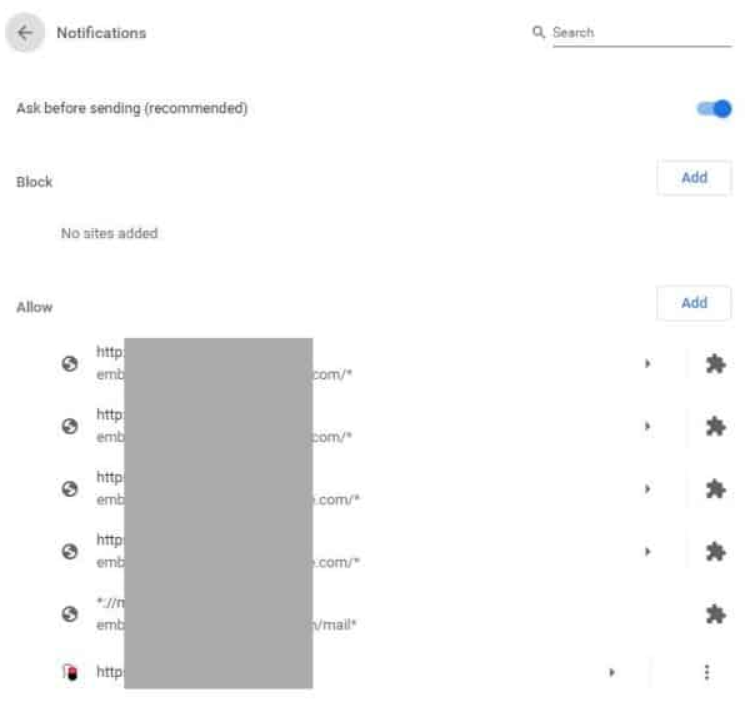 Jika kalian selalu menekan tombol Yes / OK / Allow setiap kali ada permintaan izin untuk menampilkan push notification maka di sana bisa jadi akan ada banyak sekali daftar situs. Itulah yang membuat iklan di Windows muncul tanpa henti.
Permintaan izin untuk menampilkan iklan pada situs-situs tersebut biasanya seperti ini:

Jika tidak ingin ada pop up notification dari situs tersebut maka jangan klik tombol ALLOW, tapi klik NO THANKS atau yang serupa dengan ini. Intinya kita tolak izin untuk menampilkan iklan dari situs tersebut.
4. Matikan fitur popup notification
Untuk menghilangkan notifkasi iklan popup tersebut dari Windows maka kita tinggal menghapus situs-situs tersebut dari browser.
Pada browser Google Chrome dan Opera caranya klik pada icon titik tiga di kemudian klik Remove. Ulangi langkah ini hingga semua situs yang ingin kalian hilangkan iklannya terhapus.

Pada browser Mozilla Firefox klik pada tab Status lalu klik Block, ulangi langkah ini untuk situs-situs lain yang ingin dihilangkan iklannya. Jika ingin menghilangkan semua iklan maka bisa dengan cara klik tombol Remove All Site, lalu klik Save Changes.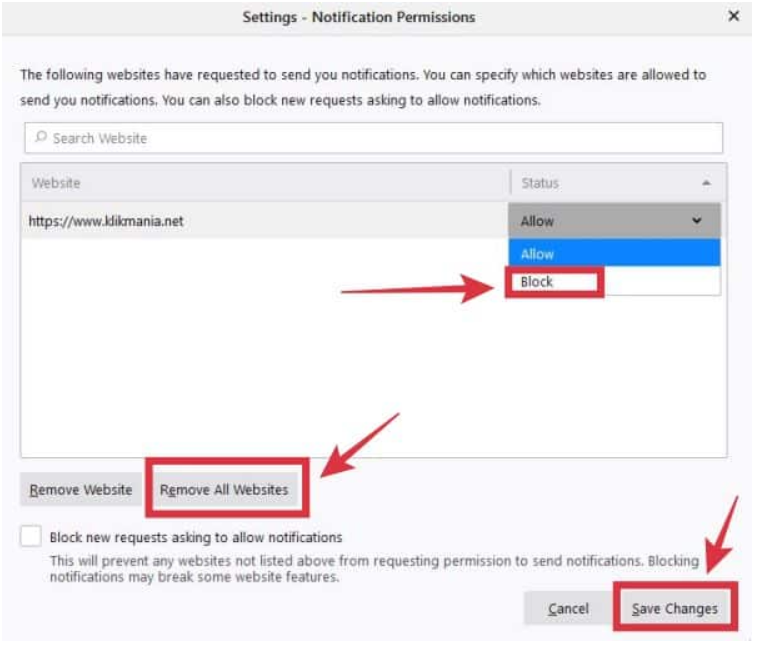 5. Uninstall aplikasi spam
Setelah semua browser yang dipakai dibersihkan dengan cara di atas, maka notifikasi iklan di Windows tidak akan muncul lagi. Tapi jika ternyata iklan popup masih muncul, maka bisa jadi itu berasal dari aplikasi yang terinstall di Windows kita. Maka kita harus temukan dulu aplikasi mana yang menjadi sumber munculnya iklan-iklan yang mengganggu tersebut kemudian menghapusnya.
Coba masuk ke Control Panel kemudian temukan aplikasi yang tidak anda kenal, atau secara tidak sadar terinstall. Biasanya aplikasi-aplikasi gratisan apalagi bajakan akan menyisipkan program lain, yang mana seringkali berupa program spam yang menyebabkan munculnya iklan mengganggu. Hapus aplikasi-aplikasi tersebut untuk menghilangkan iklannya.
Penutup
(Visited 142 times, 1 visits today)