"Cara Install KVM pada Ubuntu 20.04 / Debian 11 / Linux Mint"
Pendahuluan
KVM (Kernel-based Virtual Machine) adalah teknologi virtualisasi open-source yang dibangun ke dalam kernel Linux. Dengan KVM untuk menjalankan beberapa mesin virtual tamu Linux atau Windows. Setiap tamu benar-benar terisolasi dari yang lain dan memiliki sistem operasi sendiri dan perangkat keras virtual khusus seperti CPU, memori, antarmuka jaringan, dan penyimpanan.
Persyaratan
Bisa cek dengan menggunakan command berikut :
grep -Eoc '(vmx|svm)' /proc/cpuinfo
Jika hasilnya = 0 , artinya processor tidak support KVM Virtualization , dan jika hasilnya lebih dari 0 artinya support virtualization. Misal seperti berikut :

Hasilnya 2 artinya support virtualization.
Cek CPU support KVM
apt update -y
sudo apt install cpu-checker
Cek CPU dengan command berikut
kvm-ok
Nanti muncul
INFO: /dev/kvm exists
KVM acceleration can be used
Install KVM pada Ubuntu 20.04 / Debian 11 / Linux Mint
sudo apt install qemu-kvm libvirt-daemon-system libvirt-clients bridge-utils virtinst virt-manager
sudo systemctl is-active libvirtd
sudo usermod -aG libvirt $USER
sudo usermod -aG kvm $USER
Setup Network
brctl show
Membuat Virtual Machine
Buka Aplikasi Virtual Machine Manager
Pilih Create Virtual machine

Cari Path ISO image yang kamu simpan di Local HDD
Kemudian Setting RAM dan CPU , klik Forward
Klik Create a disk image for the virtual machine lalu setting disk untuk VM nya.
Klik Finish
Hasil Booting VM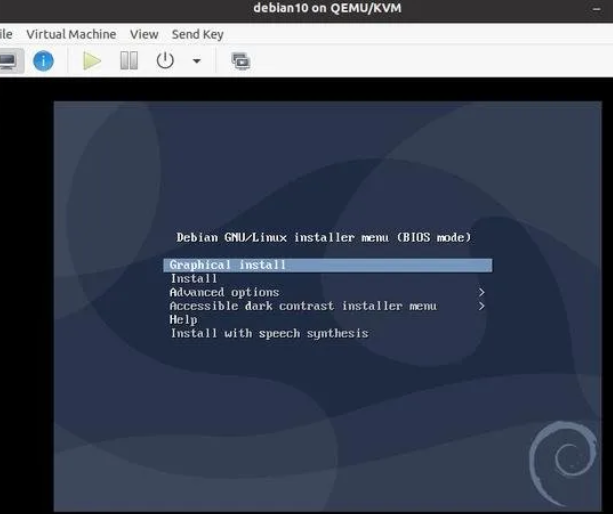 Penutup
Sahabat Blog Learning & Doing demikianlah penjelasan mengenai Cara Install KVM pada Ubuntu 20.04 / Debian 11 / Linux Mint. Semoga Bermanfaat . Sampai ketemu lagi di postingan berikut nya.
(Visited 396 times, 1 visits today)