"Cara mendapatkan uang di Internet dengan adsterra"
Adsterra adalah platform advertishing yang menghubungkan antara advertisers dan publishers dari mana saja secara global.
Perusahaan yang berdiri pada tahun 2013, hingga kini mengalami pertumbuhan yang awalnya hanya memiliki 20 orang pegawai dan tumbuh menjadi 150 orang pada tahun 2020.
Salah satu misi Adsterra yaitu menghubungkan antara pengiklan dan publisher dari semua kalangan dimana saja secara global, meningkatkan keterampilan sebagai profesional untuk memastikan masa kini dan masa depan yang sukses.
Dengan menawarkan kombinasi teknologi inovatif dan keserdasan manusia. Saat ini Adsterra merupakan brand terkenal dan telah diakui oleh banyak blogger sebagai salah satu platform periklanan terbaik.
Layanan advertisher yang dimiliki menawarkan model biaya antara lain CPM, CPS, CPA, CPL, dan CPI. Kemudian format iklan yang tersedia yaitu Popunders, Web Push, dan Native Ads.
Kemudian layanan publisher memberikan kesempatan kepada para blogger untuk mendapatkan passive income dengan pembayaran minimal $5 dengan menggunakan berbagai metode pembayaran secara otomatis yang dilakukan dua kali dalam sebulan.
Selain layanan advertisher dan publisher, Adstera juga memiliki layanan Afiliasi yang memungkinkan untuk merekrut jaringan pengiklan atau publisher melalui lalu lintas seperti Facebook, Google, atau jaringan iklan lainnya.
Fitur Yang Dimiliki Adsterra
Desain Adsterra cukup simpel dan user friendly jika di bandingkan dengan platform periklanan yang lainnya. Sehingga banyak blogger menyukai dan bermitra sebagai publisher di platform ini. Disamping itu, juga menyediakan fitur menarik seperti statistik dan referral.
Fitur statistik digunakan untuk melihat kinerja penayangan iklan pada situs yang didaftarkan sebagai publisher. Data statistik dapat dilihat berdasarkan lalu lintas dari Negara tertentu, berdasarkan nama domain, dan tanggal penelusuran.
Sedangkan fitur referral dapat Anda gunakan untuk mengajak orang lain untuk menjadi bagian dari advertisher atau publisher Adsterra dengan mendapat kesempatan untuk memperoleh pendapatan 5% dari setiap anggota yang berhasil di referensikan. Semakin banyak orang yang Anda referensikan, maka semakin banyak penghasilan yang Anda dapatkan.
Jenis Iklan Yang Dimiliki Adsterra
Iklan yang dapat Anda digunakan terdiri dari beberapa jenis iklan antara lain Native banner, Popunder, Webpush, Direct link, Vast dan Social Bar. Disamping itu, Anda juga bisa menggunakan beberapa ukuran iklan antara lain 468 x 60 px, 300 x 250 px, 320 x 50 px, 160 x 300 px, 160 x 600 px, dan 728 x 90 px.
Selain dapat memilih jenis iklan yang akan di tampilkan pada Blog, Anda juga bisa memblokir jenis iklan yang tidak ingin di tampilkan. Beberapa jenis iklan yang bisa di atur untuk tidak ditampilkan antara lain Erotic ads, Softwar ads, Alert ads, Gambling ads, dan Ads with sound.
Dengan kemudahan mengatur jenis iklan yang dapat ditampilkan di blog Anda, tentu dapat meningkatkan penghasilan Anda sebagai publisher.
Jenis Payments Publisher Adsterra
Pembayaran penghasilan yang diperoleh dari Adsterra menggunakan beberapa jenis payment. Jenis payment yang digunakan antara lain Paypal, Web Money, Paxum, Wire Transfer, Bitcoin, dan Tether.
Setiap jenis payment memiliki batas minimal pembayaran. Paypal, bitcoin, dan tether memiliki minimal amount sebesar $100, sedangkan Web Money dan Paxum minimal amount sebesar $5, dan transfer melalui rekening minimal $1000 dengan waktu pengiriman 3-4 hari kerja.
Cara Mendaftar Publisher Asterra
Berikut langkah-langkah untuk mendaftarkan blog ke layanan Publisher Adsterra.
1. Buka situs resmi Adsterra
2. Klik tombol Sign up dan pilih As a publisher.
3. Selanjutnya ketik Nama Lengkap dan Alamat Email, kemudian klik Continue.
4. lengkapi data diri :
Login: Isi dengan username atau nama akun yang akan digunakan untuk login di website Adsterra
Messenger: isi dengan WhatsApp atau sesuai keinginan Anda.
Pereferred paysystem: Pilih Wire Transfer jika ingin ditransfer melalui rekening, selain itu Anda juga bisa memilih sesuai keinginan.
List of your websites: Ketikkan alamat website/blog Anda yang akan di daftarkan sebagai publisher.
Password: Masukkan password yang akan Anda gunakan untuk login di website Adsterra.
Messenger account: Isi sesuai dengan yang Anda pilih pada kolom Messenger.
5. jika sudah berhasil registrasi maka nanti akan ada verifikasi email , buka email nya dan klik link verifikasi.
6. Kemudian coba login ke adsterra.com
7. Setelah masuk ke dashboard -> add new website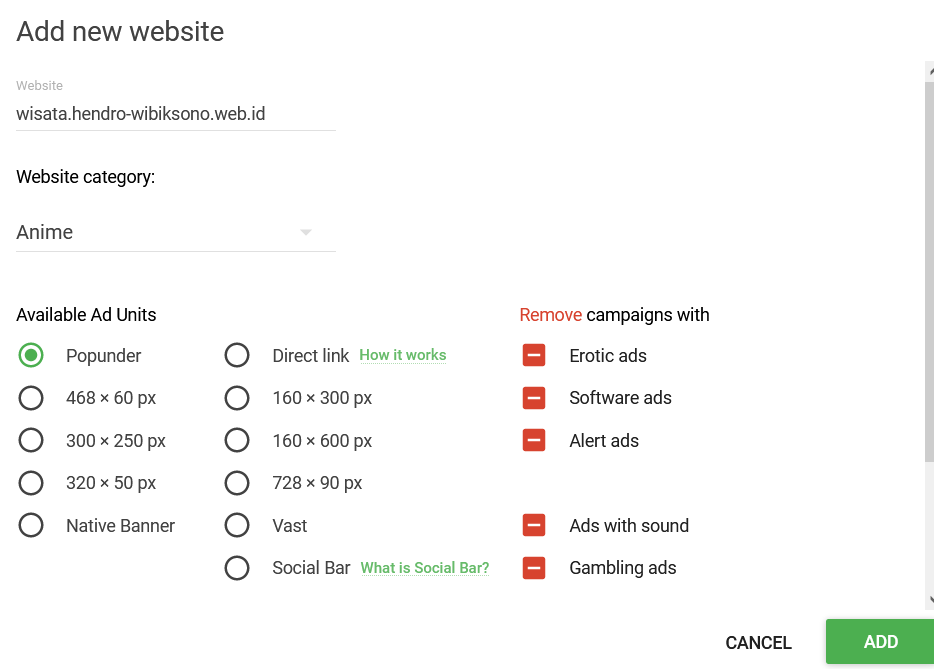 8. Kemudian tinggal get code dan passang di web

9. Disini saya menggunakan web wordpress. jadi musti login ke cpanel untuk memasang code iklan di template wordpress.
Setelah login ke cpanel masuk ke wp-content -> themes -> terus masuk ke template yang saat ini sedang di pakai.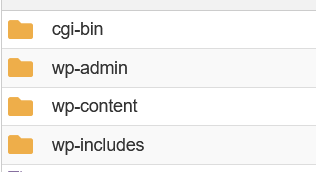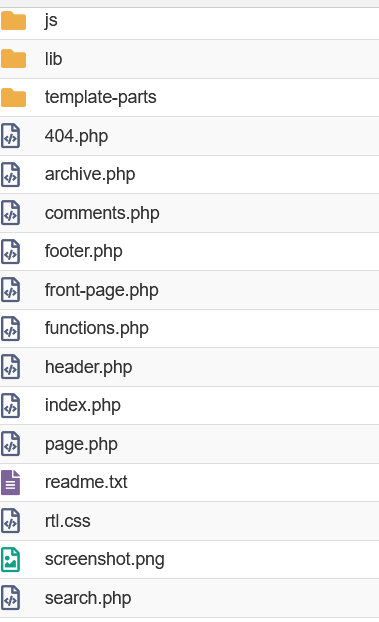 kemudian pasangkan code iklan sebelum </head> lalu save.

10. test akses web anda. kemudian klik misal menu atau artikel pasti langsung di arahkan ke iklan dari adsterra.
---
Video Tutorial
(Visited 494 times, 1 visits today)